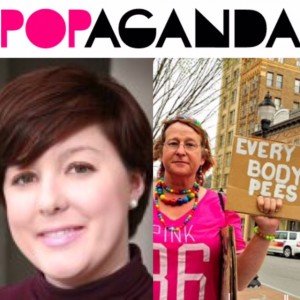 Hosted by Karina Elias
Coming up on Feminist Magazine, we hear the second part of Cherise Charleswell's interview with Professor Brooke Midkiff about her book "The Shifting Boundaries of Feminism in American Politics: A Case Study of Hillary Clinton"; which offers an interesting analysis of Hillary's political record and relationship with intersectional feminist issues. Midkiff utilized a feminist approach to critical policy analysis to examine Hillary Clinton as a presidential candidate.
For the second half, we discuss the ongoing "bathroom panic."  Featuring a piece from Bitch Media's Popaganga, we hear from host Sarah Mirk about the history of public bathroom and body policing. Also we hear from Associate Professor at York University and Chair of the Canadian Sexuality Studies Association, Sheila Cavanagh and Activist Mara Keisling about the attempts being made to pass discriminatory bathroom laws.
.
Tuesday at 3:00 PM. THIS is what feminism sounds like!