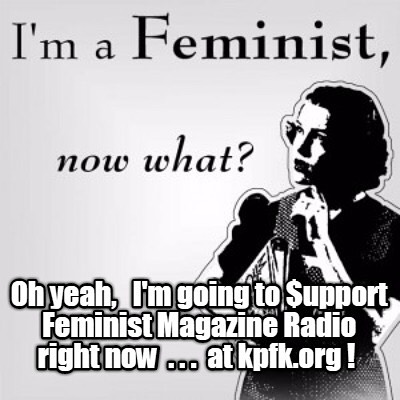 Want to keep hearing Feminist Voices?  Stories YOU care about?  & Kickass womyn making a difference?!
$upport FEMINIST RADIO & our FemMagRadio Podcast!!
It's so easy … Take a minute to Give right here
Our show has been off the air while KPFK raises much needed funds — yeah Fund Drive!  We'll be back TUESDAY August 25th  at 3pm.
But in the meantime…
Just $25 makes you a listener MEMBER … OR show us some love & give what you can… that's what #PeoplePoweredRadio on KPFK Radio 90.7 FM looks like!
*** AND Be sure leave a comment when checking out on the donation page, be sure tell 'em that your support is for Feminist Magazine! ***
#feminist #feminism #feminist #feministas #xicanafeminism #blackfeminism #queerfeminism #feministradio #radio #CommunityUnity #podcast #donate #give #support #kickass #feministvoices #kpfk