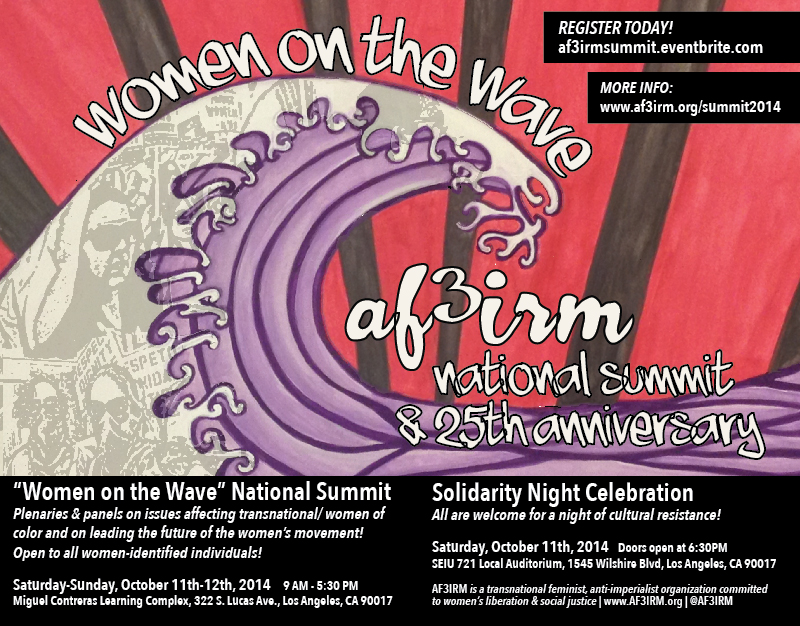 Don't miss AF3RM's "Women on the Wave," National Summit :: Panelists, Keynotes & Performers including Grace Chang, Rosa Clemente, Ninotchka Rosca, Thandisizwe Every-Twentyeighthours Chimurenga, Ana Tijoux, Mare Advertensia Lirica, Maya Jupiter and more! :: Get your tickets now!
http://www.af3irmsummit.eventbrite.com/
::
Deliberations on Five-Continent Feminism, featuring boots-on-the-ground political analysts, will open the AF3IRM National Summit and 25th anniversary celebrations on October 11-12, in Los Angeles. Some 300 women-identified participants are expected to attend the summit, entitled "Women on the Wave," and wrestle with major aspects of constructing the next wave of the struggle for women's liberation. This historic event will encompass the theoretical basis, current practices, and revolutionary vision necessary for the future of feminism and the survival of womankind. […]
The two days are meant to be discourse and journey, in quest and celebration of women's humanity, of the women's paradigm and vision. Considering the common neglect by visions for the future by various political factions of the gestalt of women's knowledge and capabilities, this Summit is urgently needed. All attendees will be active participants and will be pushed to challenge and be challenged.
As AF3IRM chairperson Jollene Levid said, "we reject invisibility; we are not going to be invisible women — whether in the women's movement or any social transformation movement. We are fully capable of leading and pushing the struggle for liberation way beyond what it has reached thus far. We only need to be aware of our historical and current experience and have confidence in our capability."
"Women on the Wave" Solidarity Night :: Join AF3IRM for a night of celebration and cultural resistance! All are invited to attend this special event featuring art, music, poetry, vendors, and food! – at the SEIU 721 Local Auditorium (1545 Wilshire Blvd, Los Angeles, CA 90017).
FEMINIST MAGAZINE on KPFK RADIO is a Media Sponsor & will be there covering the event!
[Read more about the Program]
[Don't miss out – register today!]