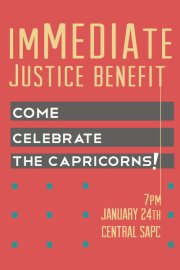 Come Celebrate Capricorn Birthdays at the imMEDIAte Justice Benefit Concert!
7pm on Thursday, January 24, at Central SAPC on 14th Street in Santa Monica. 8 dollars at the door,
All proceeds go to imMEDIAte Justice, a non-profit that teaches filmmaking and sex education to girls. With film mentors, young women write & direct films that offer a fresh take on sexual health education.