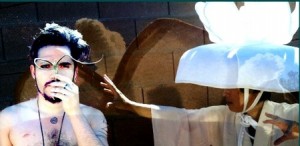 Performance Artist Denise Uyehara invites you to Enter The 2012 Prophecy and Origin Myth Contest!
To play, answer either/both of the following questions:
– "What is the origin myth of your people?"
– "What is your prophecy for 2012?"
Email your answers at denise@deniseuyehara.com.  Or submit through her website, or on Face Book.
Winning submissions will be illuminated during the show Archipelago
Feb. 17 and 18, 8:30pm, at HIGHWAYS PERFORMANCE SPACE But you can live anywhere in the world to enter.
Denise will recite the TOP TEN ORIGIN MYTHS from an ancient compendium in the evening's prologue.  And she'll perform the WINNING PROPHECY for 2012 during the show.  All submissions are posted here.
ARCHIPELAGO is a new multidisciplinary work by critically-acclaimed performance artist Denise Uyehara in collaboration with award-winning visualist Adam Cooper-Terán. Through a nexus of video, monologue, music and ritual, Archipelago remixes ancient origin myths of Okinawa and the history of the Sonoran Desert's Yaqui River Valley, situating them in contemporary times. Commissioned by the National Performance Network Creation Fund.