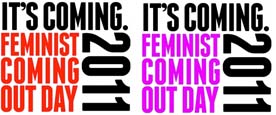 PASADENA CITY COLLEGE
1570 E. Colorado Blvd.
Pasadena, California 91106
Feminist Coming Out Day Panel
The Circadian, Campus Center
Tuesday, March 8th, 6-8pm
Calling all feminists at Pasadena City College! PCC Feminist Club is hosting a Feminist Coming Out Day panel on March 8th in the Circadian from 6-8 PM! Our panel will be focusing on why it's important to come out as a feminist as opposed to the oft-said, "I'm not a feminist, but…" and how our panelists have incorporated feminism into their everyday lives.
Our panelists include:
Myra Duran, National Campus Organizer for Feminist Majority Foundation
Kathy Heintzman, Women's Literature and English teacher at Arcadia High School
Krystle Madrid, therapist for female victims of trauma
Phoebe Brauer, Public Affairs Manager for Planned Parenthood Pasadena & San Gabriel Valley
Dinah Stephens, Public Affairs Coordinator for Planned Parenthood Los Angeles.
Hosted by the PCC Feminist Club.
[Facebook Fan Page] [Facebook Event [Twitter] [PCCFeministClub@gmail.com]

ABOUT FEMINIST COMING OUT DAY
When a queer student group and a feminist club teamed up at Harvard University to raise awareness about gender equality, the resulting 2010 campaign, Feminist Coming Out Day, brought together not only the two organizations, but also the campus community. Inspired by National Coming Out Day, a holiday which encourages awareness of issues affecting the queer community, our event was an opportunity for alliance, collaboration, bridge-building, and inclusion. This school year, we want to expand the Feminist Coming Out Day to high schools and colleges throughout the United States, so we're partnering with Bitch Magazine and taking the campaign online!
The 2011 Feminist Coming Out Day will once again be celebrated on March 8, International Women's Day, as a call to arms for young people who continue to recognize the need to fight for gender equality. We hope you'll join us on-campus or online!