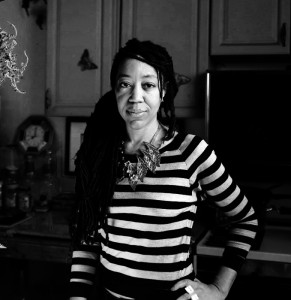 Teka-Lark Fleming is a journalist, essayist, poet and independent publisher. She is the founder and literary curator of the Blk Grrrl Book Fair. She is also the founder and publisher of the community newspaper the Morningside Park Chronicle (MPC) and the BrickBat Revue Broadsheet. The MPC is a print newspaper that covers South Central LA and Inglewood and the BrickBat Revue is a broadsheet inspired by Wallace Berman, Wallace Thurman and Hunter S. Thompson. It covers poetry and art.
She is a segment producer and co-host on KPFK's Feminist Magazine. Her writing has appeared in the LA Weekly, Ebony, Counterpunch, Time, LA Streetsblog and Zócalo Public Square. She was formerly the Tracks columnist at LA City Beat. Tracks discussed race, transportation and urban planning. She is a proud alumna of Mount St. Mary's College, the best little women's college in the west. She lives in the neighborhood of Morningside Park in Inglewood, California with her cat Fish.
Words She Lives By: My motto could be simply summed up by this quote from Patti Smith, "I want to be around a really long time. I want to be a thorn in the side of everything as long as possible."
Labels I accept: I am everything. I am nothing.
Media Sources that I use to keep up on current events: read Mother Jones, Ms., Bitch, Clutch Magazine, Dissent, The Nation, The Progressive, Utne Magazine, Flavorpill, Good, Truthout and Bold As Love Magazine.
Always in my fridge: In my fridge I have my orange juice for emergency mimosa sessions.
Musical Preferences: I like punk and roots reggae.
I am Feminist Enough to: I am Feminist enough to bring it up all the time and not care what you think. Remember, I don't care what you think, don't let my Catholic school manners fool you.