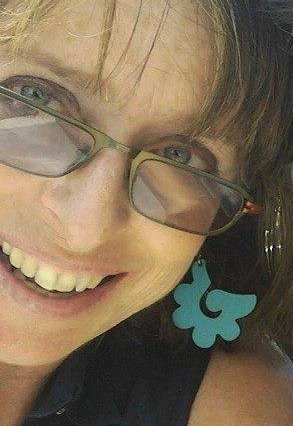 Lynn Harris Ballen has been a senior producer/co-host on on Feminist Magazine since 2007. She's had a career in media and communications, ranging from Los Angeles Magazine to the L.A. County Natural History Museum. And while living in Mexico, Lynn co-founded a bi-cultural social justice non-profit that still runs a scholarship and after-school program for underserved girls. As a lesbian and feminist cultural activist, Lynn is passionate about telling untold stories and bridging between communities, and has produced conferences, publications and art/history exhibits. Lynn was most recently a member of the founding committee for the first Lambda LGBTQ Litfest. She's also a Hedgebrook alumna, and is completing a personally political memoir about adoption and resistance in apartheid South Africa.
Words she lives by: "When I dare to be powerful – to use my strength in the service of my vision, then it becomes less and less important whether I am afraid." – Audre Lorde
Labels that I accept: Feminist. Activist. Writer. Lesbian Femme. (Just don't call me a girl, a lady, a chick … or ma'am!)
Media Sources that I use to keep up on current events: Mostly my smart friends' posts on Facebook and the journalists & activists that follow on Twitter. (but also Bitch, Feministing, & The Guardian.)
Always in my fridge: Hummus & Olives.
Musical Preferences: Everything from '90s UK ska, reggae & female-fronted punk, to vintage TheThe, Talking Heads & Sinead O'Connor, David Bowie & Prince, to current Laura Mvula, The Gossip, & Alice Bag, to afrodivas like Angelique Kidjo & Simphiwe Dana …
I am Feminist Enough to: Love how Feminism is a worldview with a core-root and many branches, and how we can all support each other to learn & grow in that framework.  (And oh, yeah: Smash The Patriarchy!)