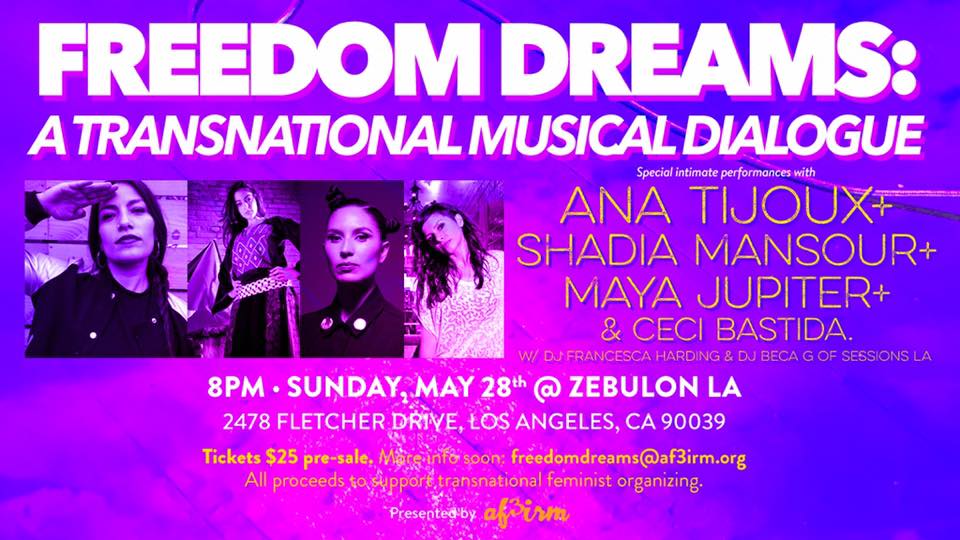 This week on Feminist Magazine with hosts Lynn Harris Ballen & Karina Elias : "Progressive social movements … enable us to imagine a new society." FREEDOM DREAMS: A Transnational Musical Dialogue is coming to LA, with performances by Ana Tijoux + Shadia Mansour + Maya Jupiter + Ceci Bastida.
In the current political moment, poetry and imagination help us produce language and consciousness to articulate a collective vision of liberation– freedom dreams. Who better than artists and cultural producers to engage with and create spaces for dialogue as we embark in this process? We hear from Ivy Quicho, chair of AF3IRM about this amazing upcoming event that the transnational organizers of AF3IRM are sponsoring.
AND … we're inviting you to call in and support KPFK and receive the phenomenal collection of VOICES THAT CHANGE THE WORLD – the 65th anniversary collection from the Pacifica Radio Archives – including the Women's History Collection, Black History Collection, and more. Showcasing Women's History through restored audio recordings dating back to the earliest days of community radio broadcasting in 1949, with voices like Alice Walker, Helen Caldicott, Lily Tomlin, and more.
Call 818-985-5735 and keep feminist voices on the air!

All this on Tuesday at 2, on Feminist Magazine.  THIS is What Feminism Sounds Like!