TUESDAY April 28th: A last minute invite to join Heather Marlowe on Tues. at 8pm at Ground Zero Cafe on the campus at USC – with her play THE HAZE … that exposed 1,877 ignored rape kits … including her own. It's one hour. A "dark humored ROMP through the criminal justice system systemic failures!!"
FB event page: https://www.facebook.com/events/1436755019953311/
FRIDAY May 1st
Four May Day Events – Go to one or go to All!
3pm – MAY DAY LOS ANGELES MARCH & RESOURCE FAIR will begin @ 3 PM @ the Chinatown Dragon Gates (Broadway & Cesar Chavez) & will be followed by a resource fair in Grand Park
in coordination with LA Raise the Wage, Fight For $15, Black Lives Matter, and the immigrant rights movement
https://www.facebook.com/events/550698961641539/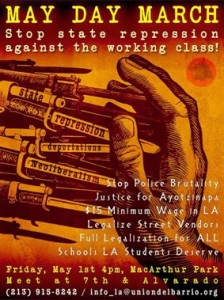 4pm–  MAY DAY MARCH. Starting at MacArthur Park w/ Union del Barrio– SCIC https://www.facebook.com/events/734688953314714/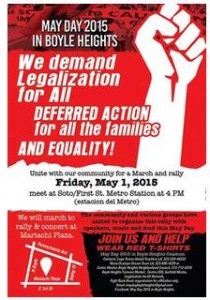 4pm – MAY DAY 2015 IN BOYLE HEIGHTS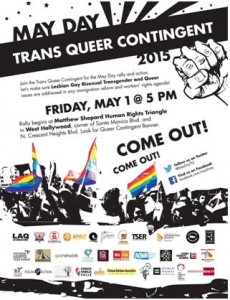 5pm  – May Day Trans Queer Contingent march & rally in West Hollywood: Matthew Shepard Human Rights Triangle
.
.
.
.
.
May 1-3- D'FunQT by D'Lo
D'Lo's latest stand up-storytelling show at The Village at Ed Gould Plaza (LGBT Center/TheVillage)
FB: https://www.facebook.com/events/837498302972925/
Tickets Can Be Bought here: http://www.eventbrite.com/e/dlo-dfunqt-tickets-15980664598
SUNDAY May 3rd
2nd Annual Global Ecofeminism Conference: at Santa Monica College from 11:30am-1pm.
Documenting Women's Leadership in the Transnational & Ecofeminist Movements. Mre info by emailing: ecofeminismsmc@gmail.com
For more info and to register, visit http://www.smc.edu/ecofem
MAY EVENTS WITH MUJERES DE MAIZ
SATURDAY, May 2nd (2-4pm)
Patterns of Flight: Wing Making Workshop by Community Art Studio
454 N. Ave 56, Highland Park, CA 90042
Facebook Event Page: https://www.facebook.com/events/342781855922162
SATURDAY, May 16th (2-6pm)
Perinatal Depression Workshop by Ticicalli Yahualli
East Side Cafe, 5469 Huntington Dr. North, Los Angeles, CA 90032
Info session on identifying signs and symptoms of perinatal depression and mood disorders.
SATURDAY, May 23rd (1-4pm)
Ancient Wisdom for the Modern Feminine by Marcia Lopez
https://www.facebook.com/events/558255824316754/
FRIDAY, May 29th (7pm)
Indigenous Veganism (Part 2) by Claudia Serrato
Here & Now: 5471 Huntington Dr. Los Angeles, CA 90032
https://www.facebook.com/events/1604729093072588/
SUNDAY, May 31st
Decolonizing Baby's Taste Buds by Claudia Serrato
Here & Now, 5471 Huntington Dr. Los Angeles, CA 90032