FemMag has been taking feminist radio ON THE ROAD, out into the community!
TAKE A LOOK at our report-back from FemMag at Wildwood School
(originally posted on Sammy's blog)
… AND READ ALL ABOUT FemMag at the WAM! LA Conference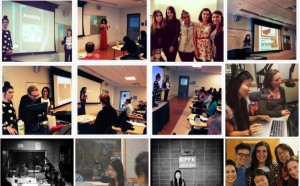 It started with a question: Do you care about creating gender justice in media? And when Professor Melanie Klein asked  us that, of course our answer was YES!
The date was: March 20th, 2013 for the L.A. version of WAM! It Yourself – one of ten simultaneous events – all part of the annual Women, Action & the Media (WAM!) conference. It's a decentralized annual conference.  So, instead of everyone who cares about gender justice in media gathering in one place, WAM! happens wherever we are … in cities and venues across the US & Canada.
WHAT:This year's WAM!LA was a half-day conference on the campus of Santa Monica College, with multimedia presentations from some of LA's best thinkers, activists and media-makers.  Free and student-friendly, it attracted students from several colleges.
WAM!LA featured presentations that discussed Domestic Violence in the media, the movement in support of the Media and Public Health Act at CSU Northridge, media justice writing about "Our Bodies our Message", and the relationship between Feminism, The Internet, and the Imagination. Plus of course: 'Why We Need Feminist Radio!"
HOW: So how DO you convince an audience raised on TV & smartphones that radio is cool again? And why they should care about feminist radio? Well we put together a bunch of audio & video clips, infographics and photos into a Prezi and started with this …
"So, Today's Big Question: Why do we need feminist radio?"
Our first big reason? Because radio is full of people like Rush Limbaugh. "Mainstream radio silences feminist voices and actively promotes outspoken anti-feminists like him."  And here's the proof:  in this video clip of Rush & his comments about Sandra Fluke that we played.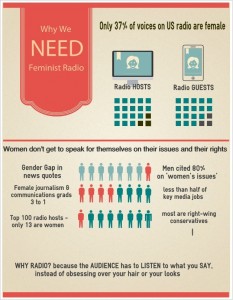 Next up – an Infographic (see left) of the stark numbers: e.g. "Just 37% of the voices on ALL kinds of US radio shows are women."
Next, we asked (and answered) the question "why IS radio so effective as a social justice and cultural medium?"
And – how could we resist – we just had to put together this short and funny behind the scenes VIDEO of ourselves in-studio at KPFK during a live broadcast, to show how we make Feminist Radio.
The next big Question was: How do we choose our stories and guests?
That section started with a reminder from Laura Flanders of GRITtv, "What's critical isn't even so much who's telling the story, but HOW the story is being told."
We followed that with a slide-show and audio clips of some recent guests ranging from: grassroots activists like Gabriella Valle from California Latinas for Reproductive Justice, to big names – like feminist theorist bell hooks, who had joined us on FemMag to talk about her latest book.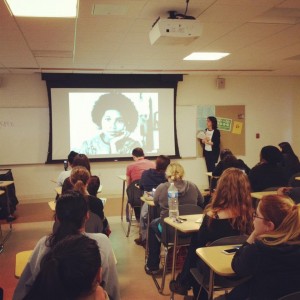 We included amazing local performers like Kristina Wong – whose recent one woman show 'Going Green the Wong Way' was right at the intersection of feminism and eco activism.
And we told about how we may read a blog that inspires a segment – like recently when artivist Felicia Montes talked about what the life and career of famous banda singer Jenni Rivera meant to her and other Chicanas.
Or we feature student voices – like Julie Zeilinger – who wrote a book called 'A Little F'd Up' – when she was still a freshman in college!
We wrapped up the whole presentation by asking the audience for suggestions of their ideas for future FemMag programs: "And now we need YOUR help in making some Media Choices! Help us decide what stories to tell."
THANKS: What a great experience! – thanks to all the conference participants and especially to Melanie Klein and all the WAM!LA organizers.
Lynn H Ballen & Lauren McQuade presented for Feminist Magazine.  Sammy Lyon & Connie Shen were the rest of the team who created the presentation. We're ready to take it on the road!
(And we can't forget Taylor – our on-site tech guy! We learned that Prezi's are great – but just don't depend on having WiFi wherever you need to run your Prezi.)
Check out the rest of the photos right here!